President: Karen Elkins Cohen
Karen and her husband Andrew joined Beth El in 2013 and enjoy the full range of its Youth and Family Education programs. Their daughter Sydney attends Kadima, and Karen's step-daughters Abigail and Clara have been involved in the B'nei Mitzvah program, and have spent many summer sessions at Camp Kee Tov. Karen co-chaired Beth El's annual gala for two years, and previously acted as Vice President-at-Large on the San Francisco Fog Rugby Football Club's board of directors. Professionally, she is the Director of Human Resources for Rubicon Programs. Karen has a Master of Science degree in Organization Development and the Senior Professional in Human Resources certification from the Human Resources Certification Institute.
1st Vice President: Lisa Feldman
Lisa has been a member of Congregation Beth El for 15 years. During that time, she has taken on many volunteer leadership roles, including Chair of the Ritual Committee, Recording Secretary and Membership Chair of the Board of Directors, leading services, organizing the Zoom Crew during the pandemic, serving on the Strategic Planning Committee and the Cantor Search Committee, and leading the lay-led Women's Rosh Chodesh group. She loves to learn and participates in Torah Study and Beth El's Talmud Study programs. She is a past winner of the Marian Magid Award for volunteer leadership.
In addition to her enthusiastic presence at Beth El, Lisa is the CEO of Activating Possibilities LLC, a consulting firm that focuses on the relationship between talent, management, and culture. She does this by incorporating positive psychology and design thinking into executive coaching, manager training, and team alignment workshops. She is also a lecturer at UC Berkeley and teaches a class to undergraduates on professional skills for workplace success.
Recognizing the role that privilege, in particular white privilege, plays in the United States and in the world, Lisa invests time in increasing her awareness of her own role in this system in order to improve her ability to act as an ally and speak up for equity, inclusion, and belonging.
Vice President, Equity and Inclusion: Lorianna Seidlitz-Smith
Lorianna Seidlitz-Smith has been a member of Congregation Beth El with her husband, Nicholas Smith and two sons Elijah and Joshua, since 2011. Lorianna was also a member as a child with her great grandmother, Sally Seidlitz. Lorianna started out being active in the BENS community while their son Elijah was attending. He now attends Camp Kee Tov and is enrolled in Kadima. Along with serving on the gala committee for four years, Lorianna has also been on the membership committee and active in many other programs. She has been working hard to revamp the Women of Beth El program. Lorianna has a background in business operations and recently went back to college to pursue her Business degree. Lorianna is a bay area native with strong ties to the greater community.
Vice President, Development: Steve Marylander
Vice President, Program Council: Marc Ettlinger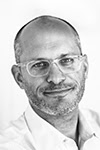 Marc and his family have been members of Congregation Beth El since their first Shabbaton, in 2012. Since then, they've been hooked and his kids are deeply committed members and ruach-bringers of the Kee Tov community. His older daughter is also training for her Bat Mitzvah at Kadima. Marc grew up in a conservative synagogue and went to a Jewish day school out east and loves the religious inclusiveness and diversity at Beth El. He currently also serves on another nonprofit board dedicated to research and education for Veterans health. He has a PhD in Linguistics from UC Berkeley and by day works in analytics and data science.
Treasurer: Shoshana Kariuki
Immediate Past President: Jeremy Alberga
Jeremy and his wife Suzanne, son Miles and daughter Sophia have been members of Congregation Beth El since 2009. Both Miles and Sophia have been active members of BENS, Kadima and Camp Kee Tov since they arrived in Berkeley. By day, Jeremy is Chief Operating Officer of the Global Health Group at the University of California San Francisco, where he works to help guide overall strategy, fundraising, and strategic planning of the Group. Prior to that, he served as Deputy Director of Global Viral, a not-for-profit organization dedicated to the exploration of the microbial world, where he oversaw the organization's day-to-day administration and operations. He has almost 15 years of experience managing international health projects, including 3 years living in Cameroon and 1.5 years in Botswana, where he was the Deputy Country Director for ITECH Botswana, dedicated to building clinical capacity for the care and treatment of people living with HIV/AIDS. Jeremy holds an MA from George Washington University and a BA from McGill University.
Vice President, Personnel: Ethan Andelman
Ethan has been a member of Beth El since 2010, along with his wife, Laura Mytels, and their sons Max and Elliot. As a family, they participated in the Chug Mishpacha family education program until Max graduated into the bar mitzvah program (and miss it!), and both kids have attended Camp Kee Tov. Ethan currently heads the adult education committee at Beth El, and has been a member of the board since 2016. By day, Ethan is a lawyer specializing in business transactions and dispute resolution.
House Committee Chair: Joel Chala
My first introduction to Beth El happened soon after I moved to Berkeley from Havana, Cuba in April of 2001. My wife Becky was Bat-Mitzvahed at Beth El and also worked at Camp Kee Tov as a counselor for many summers, so Beth El preschool was a natural choice for our daughter when she turned two. Soon we started making friends with other families, and I immediately felt welcomed and accepted by the community without even being Jewish. I was touched by that welcoming feeling. Many of the people we met at BENS are still our closest friends, and I think of them as family. (Which is why they get to tease me for singing really loud in services even though I don't know a lick of Hebrew.)
I'm a cabinet maker by profession, so over the years I have helped out in that capacity here and there, from making zig-zag menorahs for the preschool kids to decorate (oops--not kosher!), to assembling a cardboard cruise ship facade for the Gala one year, to building the acacia Torah study table that resides in the Beit Midrash. I'm very humbled by this opportunity to serve as a board member and look forward to being able to continue contributing to the success of our Temple.
Vice President, Community Engagement: Allie Liepman
Allie Liepman likes to say she was born and raised at Beth El. Allie's baby naming ceremony was at Beth El in 1989, she became Bat Mitzvah in 2002, worked at Camp Kee Tov for over 14 years and now is deeply honored to sit on the Board of the congregation. Allie is active on the Tribe leadership committee, loves to attend the Gala, Shabbaton and her newest favorite event is Shabbat-in-the-Round on the 4th Friday of every month!
When Allie took a short four years away from the Bay Area, she studied Family and Human Services at the University of Oregon. She returned to the Bay Area quickly after graduating and just recently started working at Airbnb in San Francisco. When she's not working, she loves to spend time with her friends and family, traveling whenever she can to an ocean with tide pooling!
Director-at-Large: Christine Meuris
Our family has been a member of Beth El since 2007-2008. My husband Andy is Jewish by birth and we raised our two daughters in the Jewish tradition. We attended Chug Mishpacha, the Saturday family program and both children became Bat Mitzvah at Beth El. They also have been ardent Kee Tov campers and staff members. I am not Jewish but have sought to make a meaningful connection to the community that so nurtured my children and family. I became involved in the refugee resettlement efforts initiated at Beth El (in conjunction with JFCS - East Bay) and have helped to resettle several refugees and asylum seekers. I also attend Torah study. I find personal resonance with the Jewish tradition, the holiday cycle, and with a spiritual community that is so diverse in its approaches to the idea of God. Professionally, I am a visual artist and member of the collective gallery, Mercury20 in Oakland.
Director-at-Large: Olga Reznick
An official member of Beth El since 2019, Olga has been in and around the Beth El community for many years. She is a native of Oakland and currently lives in Albany. Olga earned her undergraduate degree in Psychology and Human Biology at Stanford, and her Ph.D. in Clinical Psychology at UCLA. Her experience working as a licensed psychologist in a variety of settings inspired her interest in public health and prevention. In a mid-life career change, she earned her MPH (Epidemiology) at the UC Berkeley School of Public Health and went on to a second career in prevention research at the UCSF Center for AIDS Prevention Studies (CAPS) until her retirement in 2013. Olga is currently serving on the Board of Directors for Jewish Family and Community Services East Bay and was previously a board member at Uncommon Law, a local prisoner rights organization. She currently serves as a member of the Connections Committee and has enjoyed participating in many community projects at Beth El.
Director-at-Large: Jennifer Baumer
Jennifer has been a member of Beth El since 2008. A native of Los Angeles, Jennifer has lived in Northern California for most of her life where she worked as a middle school English teacher for the past 17 years. Last year, Jennifer started a job as a middle school Jewish studies teacher at The Brandeis School of San Francisco. She has also worked as a Room Representative for Kadima. Jennifer's family is well connected with Beth El with strong ties to the community. Her two daughters- ages 9 and 12 have both been at Beth El since nursery school and both attend Camp Kee Tov.
Director-at-Large: Beth Zeitman
Beth and her two children, Emily and Ethan (now young adults), have been Beth El members since 1998. Emily and Ethan have had the invaluable experience of growing up in the Beth El community, attending Camp Kee Tov and Beth El religious school, then becoming b'nei mitzvot. Beth became a bat mitzvah with the 2012 adult b'nei mitzvah class. Beth has been a Beth El volunteer over the years, taking on various tasks, from torah chanting at services, serving at the homeless meals, and co-constructing the beautiful bimah cover with a fellow b'nei mitzvah mom, to co-chairing the Program Council for several years and participating on the Finance Committee. Beth has been an accountant for over 20 years and is currently proprietor of Zeitman Accounting Service.
Director-at-Large: Miriam Schultz
Miriam Schultz is a psychiatrist in Berkeley who has worked primarily with pregnant and postpartum women in her almost-15 years in private practice. At Stanford School of Medicine (Dept. of Psychiatry) where she's an associate clinical professor, she treats patients with medically-complicated pregnancies in the Lucille Packard obstetrics clinic. She completed training in ketamine-assisted psychotherapy in 2021, and has integrated this medicine into her treatment offerings.
Miriam has acted as clinical consultant and advisor in various capacities, from working on statewide health education initiatives, to helping build programs for Dignity Health that increase access to mental health care at a national level, to advising on pharmaceutical development for postpartum depression. She has given talks and trainings throughout the western U.S. about maternal mental health. As a volunteer she has consulted for JFCS's Fussy Baby program and served as a board member at Tehiyah Day School.
She and her family have been Beth El members since 2012.
Recording Secretary: Ed Sklar
Ed Sklar was born and raised in Northern New Jersey, about 10 miles outside of New York City. His parents were both public school teachers, which had a tremendous influence on Ed's future career as an attorney for public school districts. He is the Managing Partner of Lozano Smith's Walnut Creek Office.
Ed is married to Jennifer Levin. Jennifer is also an attorney who practices criminal defense and mental health law. They have three beautiful sons: Max, Quinn, and Zeke.
Ed's family moved to Berkeley in 2008. They have been members of Congregation Beth El since approximately 2010. It has enriched his entire family's life, as the boys have gone through (and Zeke continues to go through) Kadima. So far, they have had the honor to celebrate the bar mitzvahs of their older sons. They have attended several Shabbaton with the Congregation. Throughout Ed's time with Beth El, he remains fascinated by the talent, kindness, diversity and achievement of its congregants.
Trustees
Bonnie Cooperstein
Bonnie has been a member for almost 30 years. She has served on the Ritual, Gala, and Shabbaton committees, and is presently Co-Chair of the Gift Shop, she has also helped in the office when needed. It was Bonnie's pleasure to have set up the Chardonnay Shabbats for 7 years. Bonnie's first and only Bat Mitzvah was at Congregation Beth El in 2018. Bonnie is now honored to serve as a Trustee on the Board of Directors and will continue to help any way she can.
Jill Dodd
Jill Dodd has been a member of Beth El since 1987. Her daughters, Sarah and Elizabeth went through all of the programs that Beth El offered, from nursery school through their teen years, including becoming B'nei Mitzvah. Her husband, Martin, is a Past President of the Board and continues to serve as a volunteer. Jill is now on her third stint on the board—the first was in the late 1980s, when she served as recording secretary, the second was from 7/1/13-7/1/19, when she served as First VP, then President, then Past President, and the third stint—as trustee—started on July 1, 2022. She has held various other volunteer positions, and was part of Beth El's first Adult B'nei Mitzvah Class (in 2003). She is currently also a member of the Wise Aging Group and of a Jewish Spirituality group based at Beth El. In her professional life, she is a nonprofit and estate planning attorney, although she is currently on a glide path towards retirement, and spends as much time as she can with her grandchildren, Hannah and Matthew, as well as continuing to serve the Beth El community.
Program Council Committee Chairs
| | |
| --- | --- |
| Program Council Chair | Marc Ettlinger |
| Program Council Staff Liaison | Rabbi Ira Rosenberg |
| Adult Education | Ethan Andelman |
| Beth El Chorus | Alan Sanstad |
| | Susan Zarchy |
| Chevrah Kadisha | Yael Galinson |
| Homeless Meal | Rob Kessler |
| | Jeff Leon |
| House Committee | Joel Chala |
| Immigrant Justice/Interfaith | Caroline Lehman |
| | Dana Dubinsky |
| Legacy Giving | Ruth Ehrenkrantz |
| Library Committee | Scott Spear |
| Life Stories | Marilyn Margulius |
| Mitzvah Corps | Laura Mytels |
| | Laura Turbow |
| B-REDI Team | Alicia Klein |
| | Jane Stern |
| Ritual Committee | Yonatan Frisch |
| Tribe | Alex Mog |
| | Brianna Sommer |
| Tikkun Olam Leadership Team | Becki Cohn-Vargas |
| | Kellee Fong |
| Torah Study | Caroline Lehman |
| Wise Aging | Susan Sugarman |
Sat, September 30 2023 15 Tishrei 5784