לִבְנוֹת וּלֽהִבָּנוֹת


Livnot u-l'hibanot
To Build and To Be Built
Did you know the Beth El Oxford Street campus uses geothermal energy for heating? Or that as part of the site development Beth El restored a stretch of Cordinices Creek? During the design and building of Beth El's new home on Oxford street, member (and architect) Alex Bergtraun wrote a series of articles for the Builder. Detailing everything from the materials used in the construction to the planning for the school classrooms, the articles below provide a glimpse back in time at the process of moving from dream to reality for our new home.
Click any of the links below to view a .pdf of Builder articles and take a virtual tour through time as Beth El's Oxford Street home moved from dream to reality.
A special book of photos and memoires was designed and printed by Bob Epstein in honor of this event. If you would like to order a copy, please go to this link. If you would like to download a .pdf version, please click here.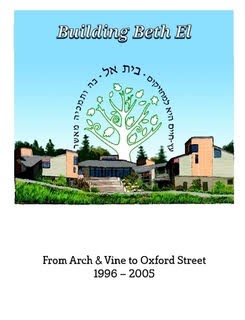 Wed, December 6 2023 23 Kislev 5784